A green mix and match of facts
Erin Airton, 24 Hours, March 27, 2008
In a strange twist, the environmental community is in the odd position of defending the continued use of greenhouse gas generating coal power by B.C. Hydro to meet our province's growing energy needs.
A combination of NIMBY (not in my backyard) folks, public sector unions and those generally opposed to private sector involvement in B.C.'s power industry have whipped up opposition to run-of-river power generation, using a controversial project on the Pitt River as the rallying point.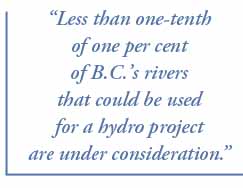 Like many public policy debates, this one is complex — far more complex than those who packed a school gymnasium in Pitt Meadows on Tuesday night might let on.
The reality is that we have not been building power generation in this province and have been living off the mega-hydro projects commissioned in the 1960s by the government of the day.
Let's not forget that these so-called "green" projects were responsible for the utter devastation of large tracts of pristine valleys, disruption to fish populations, and the displacement of First Nation communities at the time of their construction.
On the other hand, these dams have provided a historic power legacy which has allowed our province to grow and prosper, freed from the need to import expensive power — until recently.
But as our population has continued to grow, we have imported about 15 per cent of our power over the past six years mostly from coal plants.
We have no choice, ethically, but to look at our own sources for generation here in the province.
But that process isn't assisted by the fear-mongering and misinformation spread by opponents.
One of the myths that the green-power opponents use is the spectre of a dam on every river in B.C. — all run by self-interested businessmen who pillage our rivers for shareholder gain. They wave around a number of 480 water licences granted as proof that 480 rivers will soon be operating power projects.
The reality is that fewer than one in five applications are approved, and that is only after extensive environmental, fisheries, First Nations, community and government review. Of those that are approved, fewer yet are built, as, unlike in the public sector, developers require economic feasibility for projects.
A more important number, perhaps, is that less than 1/10th of one per cent of B.C.'s rivers that could be used for a hydro project are under consideration.
Run of River and other independent power projects are highly risky — there is no guarantee that a river will be able to support power generation until it is properly studied. Private builders assume the risk and those costs so that all British Columbians can continue to enjoy green power.
For readers looking for further information, an interesting website to review is www.greenenergybc.ca.