COPE 378,
home of the whopper
Who first fried up all those whoppers about green energy? We don't know, but the main distribution centre seems to be the Canadian Office and Professional Employees union local 378. By comparison, the other groups seem like mere franchises.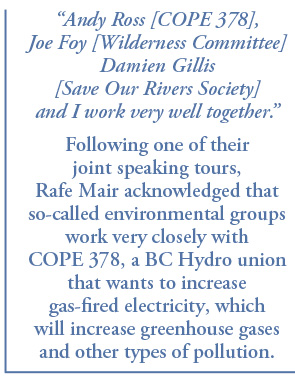 A powerful BC Hydro union, COPE 378 is the most prominent of all the groups opposing independently produced green energy. COPE 378 seems to be putting up much of the money spent by other groups and individuals in this well-funded campaign.
COPE 378's speaking tours alone must cost a lot of money. The union sponsors or co-sponsors tours across the province on an ongoing basis. On just one day, February 2, 2008, COPE 378 sent a speaker to each of 12 anti-green energy events held simultaneously across B.C.
COPE 378 offers $500 to any group of 10 people who want to stage an event protesting independently produced green energy.
COPE 378 has paid union officials working full-time on its anti-green-energy campaign.
But COPE 378 has no environmental credentials. Last January the union appeared before Port Moody city council as part of the COPE 378 campaign to have the Burrard Thermal gas-fired plant restored to full capacity. Years ago, when Burrard was running at full capacity, it was one of the Lower Mainland's worst sources of GHGs and other types of air pollution.
COPE 378 has at least one astroturf organization, Take Back the Power. The union hired Raincity Studios, an agency that promotes rock stars and "international super-brands," to provide TBTP with web design, support, hosting, training and a "community development initiative."
The Save Our Rivers Society appears to be another COPE 378 astroturf group. SORS has money to spend on a paid spokesperson, speaking tours and other events. SORS follows the COPE 378 script closely, repeating the standard COPE 378 myths about 500 rivers, skyrocketing rates, privatization, environmental damage and so on.
In fact most of the groups opposing independently produced green energy follow the COPE 378 script, right down to the union's preoccupation with Accenture, a subject that's irrelevant to renewable electricity.
Apart from pushing the usual anti-green energy myths, COPE 378 spent big money on an entirely nonsensical radio ad campaign. Just about every statement in the ad is an outrageous whopper even by COPE 378 standards.
The BC Hydro union also unleashed an expensive, flashy and false Internet ad campaign less than a week after the Oct. 1 release of an academic peer review discrediting COPE 378's two intellectual spokespersons. The review was written by Dr. Mark Jaccard, an internationally respected expert on energy issues and a 2007 Nobel Prize laureate. Within days COPE 378 was spending big money on a glitzy ad campaign. The campaign brazenly pushes misinformation that's been refuted again and again.
So much for the credibility of COPE 378, the BC Hydro union that leads the campaign against green energy.