Downhill rush to power Whistler
Tom Fletcher, Sicamous Eagle Valley News, Nov. 11, 2008
WHISTLER — When skiers take their first rides on the new peak-to-peak gondola between Whistler and Blackcomb ski areas in December, they might not notice the resort's latest innovation 450 metres below their feet.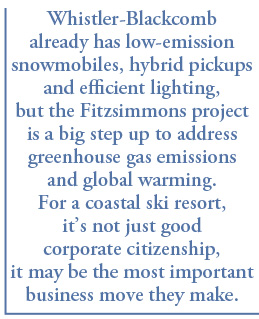 A run-of-river hydroelectric project is being constructed on Fitzsimmons Creek, its water diversion pipe snaking down alongside the new bobsled run built for the 2010 Winter Olympics. The turbine at the bottom is expected to produce the equivalent power used to run resort operations, including 38 lifts, 17 restaurants and more than 200 snow guns, before releasing the water into the existing snowmaking pond.
Whistler-Blackcomb already has low-emission snowmobiles, hybrid pickups and efficient lighting, but the Fitzsimmons project is a big step up to address greenhouse gas emissions and global warming. For a coastal ski resort, it's not just good corporate citizenship, it may be the most important business move they make.
"I'm just a simple mountain man, but I stand on glaciers," says Arthur DeJong, mountain and environmental planning manager for Whistler Blackcomb.
Pushing for the project since 2001, DeJong doesn't have much time for the debate about human-caused climate change. Whether the current scientific consensus is proven or not, he says it makes sense to "decarbon" the economy and get away from non-renewable fossil fuels.
Fitzsimmons Creek has numerous advantages. The pipe and access follows an old logging road and a 25 kilovolt power line that supplies lifts. The resort applied to amend a provincial water licence it already held for snowmaking, and the diversion pipe will deliver water to the bottom with less silt to accumulate in the bottom pond. The section is too steep for the creek's bull trout to navigate, with a vertical drop of 300 metres to accelerate the water through the 1.5 metre pipe.
It's also private power development, a hot topic for B.C. politicians. Ledcor, a private firm that pioneered the Alberta oilpatch, came in as a partner in 2001, and this year Ledcor sold a majority stake in 18 B.C. run-of-river projects to Innergex Renewable Energy Inc., a Quebec-based developer and operator of
hydro and wind power facilities.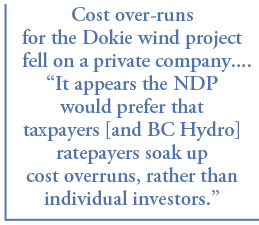 The NDP opposes the B.C. Liberal government's decision to move to electricity self-sufficiency while restricting new power developments to private investors. The company behind one of B.C.'s first wind farms under construction near Chetwynd filed for creditor protection last week, and NDP environment critic Shane Simpson said this shows that BC Hydro should have a larger role in developing and owning new power sources.
Environment Minister Barry Penner noted that the construction cost overruns for the Dokie wind project fell on a private company, EarthFirst Canada Inc.
"It appears the NDP would prefer that taxpayers [and BC Hydro] ratepayers soak up cost overruns, rather than individual investors," Penner said.