B.C. plays catch-up on wind power
Tom Fletcher, BC Local News, August 14, 2008
CHETWYND — As B.C.'s first wind tower sites finally began to take shape on Dokie Ridge west of Chetwynd this spring, the surrounding hillsides flared with the now-familiar red of mountain pine beetle infestation, now spreading towards the northwest.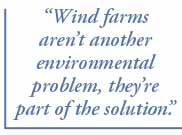 The dying forest is a potent symbol of climate change, frequently cited by Premier Gordon Campbell as his government implements an unpopular carbon tax and embarks on an aggressive plan to develop independent clean power sources.
Campbell has gained a new reputation as a national leader on alternative energy, but in fact B.C. lags behind other provinces in wind development. The Atlantic coast has more than a dozen sites, and another cluster sits in southern Ontario where coal and nuclear plants are mainstays of the power grid.
Quebec, like B.C. blessed with plentiful hydroelectric capacity, has four wind farms in the Gaspé region, and even Yukon has a site near Whitehorse.
A 2004 survey by B.C. Hydro identified Dokie Ridge as the best inland wind generation site in the province. The second-best was nearby Wartenbe Mountain, where Victoria-based Earth First Energy plans to add to its Dokie Ridge development and tie both into high-voltage transmission lines that run nearby from B.C. Hydro's two dams on the Peace River.
Permits in hand, the company has begun pouring massive concrete bases to support eight towers that sit in sections at the entrance to the Dokie site. Another 40 are planned for the adjacent hilltop. But on the 47-tower Wartenbe site, approved two years ago, local opposition has been vocal and at times angry.
Bill Bentley, president of the B.C. South Peace River Stockmen's Association, wrote to oppose the Wartenbe site, noting that the area has been actively ranched since 1917. The community known as Lone Prairie has 45 families, most supported by ranching. During the public comment period in 2006, the province's Environment Assessment Office received numerous protest letters, some questioning the impartiality of provincial government staff.
Lone Prairie ranchers Gary Drinkall and Mark Gillies described the consultation as "grossly inadequate." Leaseholders of Crown grazing land commissioned a site study that detailed moose, snowshoe hare and other wildlife activity and pronounced most Wartenbe tower sites unsuitable due to rock blasting and other disturbances.
Project backers say wind farms have been proven to work in harmony with ranching in Texas and Alberta, and have offered detailed plans to protect streams and wildlife.
A consultant familiar with the project said the rise of the first towers at Dokie should be a significant symbol. The three 45-metre blades atop each tower are of science-fiction proportions, but operate quietly. Another project near Dawson Creek is expected to be the first to plug into B.C.'s power grid, bringing the province into the wind era officially in 2009, with Dokie in service in 2010.
The protests are surprising, considering the industrial footprint that has long existed here. Beyond the huge dams with their flooded valleys and transmission lines, the region is crisscrossed with decades of logging roads. The towers and flare stacks of Texas-based Spectra Energy's Pine River natural gas plant stand on a hilltop near Chetwynd, and gas pipelines emerge from the ground along Highway 97 north from Prince George.
A road runs southeast from Chetwynd to Tumbler Ridge, where open-pit coal mines look to expand operations in response to the surging price of that most carbon-intensive of fossil fuels.
Wind farms aren't another environmental problem, they're part of the solution.