media releases
Media release
B.C. Citizens for Green Energy
www.greenenergybc.ca
April 16, 2008
The anti-IPP campaign:
Creative hyperbole,
inflationary hyperbole,
relentless hyperbole
and lack of attribution
B.C. Citizens for Green Energy announces awards
for a province-wide campaign of misinformation
VANCOUVER, APRIL 16, 2008 — B.C. Citizens for Green Energy today gave recognition to opponents of independently produced clean electricity for their overwhelming exaggeration and myth-making. Three awards were announced, with a fourth consolation prize given to a newspaper for lack of attribution.
"We've been seeing the same old misinformation repeated over and over again in news reports, opinion pieces and letters to editors all over the province," said BCCGE spokesperson Bruce Sanderson. "But now we're seeing some really inflationary myth-making. And in one case, a columnist actually repeated key propaganda terms verbatim or almost verbatim without acknowledging the source."
First prize, for creative hyperbole, goes to the originator of the 500 rivers myth. "This is the central myth of the campaign against run-of-river energy," Sanderson said. "We hear variations of it all the time. Among the most common are claims that 500 rivers are being sold, stolen or given away. We don't actually know who started this myth, but it's been repeated so often that many people think it's true. It's apparently based on the fact that nearly 500 water licence applications have been made since 1990. But only a small fraction of these applications have resulted, or will result, in actual developments."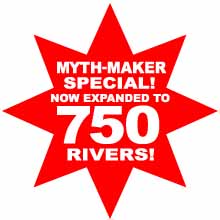 Second prize, for inflationary hyperbole, goes to the people who recently expanded the 500 rivers myth by 40 per cent. "Just over the last few weeks, some media have reported that 700 rivers are being affected," said Sanderson. "Again, we don't know who started this. But we have to recognize Rafe Mair for upping the total to 750 in a recent anti-run-of-river rant. Nice going, Rafe — that's aiming high!"
Third prize, for relentless hyperbole, goes to the supposed documentary film Power Play: The Theft of B.C.'s Rivers. "This film repeats the campaign's most common claims," said Sanderson. "Almost every one of those statements is misleading or false. The film uses a heavy-handed technique of piling inaccurate claims on top of misinformation so that a single sentence will often contain multiple falsehoods, one after another after another. All this is delivered by a narrator who talks like a wannabe gangster."
A fourth consolation prize, for lack of attribution, goes to Terrace Standard columnist Rob Brown. "In his third of three confused tirades against run-of-river energy he repeated parts of the Power Play script verbatim or almost verbatim. But as late as one week after the April 9 column appeared, the Terrace Standard website still doesn't acknowledge the source. I wonder if the same problem appears in the print edition. Apart from the sheer inaccuracy of the information, the lack of attribution seems a serious matter."
The actual awards are figurative. "The ceremonial lump of coal traditionally awarded to such wrongdoers hardly suits the enormity of the anti-IPP myth-making campaign," Sanderson explained. "So we're figuratively awarding a tonne of coal to recognize their implied support for imported coal-generated electricity."
Many of these myths are already debunked on a BCCGE webpage called Straight Answers to Reactionary Myths:
http://www.greenenergybc.ca/myths.html
Click here to see the Terrace Standard's unattributed comments,
their unattributed source and BCCGE's myth-busting response.
---
Other media releases
Myths about green energy spread to North Shore February 28, 2009
Anti-run-of-river road show coming to Campbell River and Courtenay January 29, 2009
Anti-run-of-river rent-a-mob coming to Sechelt January 28, 2009
Anti-run-of-river road show pulls into Powell River January 27, 2009
Anti-IPP campaign challenged to divulge amount and sources of spending November 27, 2008
BC Hydro forecasts underestimate our electricity needs November 24, 2008
Anti-run-of-river road show rolls through the northwest October 16, 2008
Faux environmental group gives Pemberton speech October 16, 2008
Two-day training conference prepares anti-IPP activists for major offensive October 3, 2008
Academic report destroys basis of anti-IPP campaign October 1, 2008
Veteran journalist's anti-IPP involvement raises concerns July 14, 2008
Big money backs the campaign against clean electricity June 19, 2008
Is BC Hydro turning away from clean energy? June 16, 2008
Anti-run-of-river re-runs coming to the Kootenays June 11, 2008
B.C. Citizens for Green Energy congratulates Vancouver Electric Vehicle Association for annual show
June 6, 2008
Run-of-river hydro project short-listed for Canadian Environment Award May 22, 2008
Anti-IPP myths, misinformation and great big whoppers April 25, 2008
The anti-IPP campaign: Creative hyperbole, inflationary hyperbole, relentless hyperbole and lack of attribution April 16, 2008
Opposition to run of river ideological, not environmental March 25, 2008
Newly formed citizens' group supports independently produced clean electricity March 11, 2008