BC's official opposition party
calls for a moratorium
on independent power projects
Laura Walz, Powell River Peak, April 24, 2008

Ken Brown, chief of the Klahoose First Nation, is criticizing the New Democratic Party (NDP) for calling for a moratorium on private power projects. "What whiz kid in the NDP brain trust came up with the idea of opposing sustainable run-of-river, green power developments?" Brown asked. "Their extensive research did not include getting a first nations' perspective on the situation or evaluating the effect of first nation votes on election night."
Malahat-Juan de Fuca NDP MLA John Horgan introduced a motion calling on the legislature to support a moratorium on private run-of-river power projects until a comprehensive review of the social, economic and environmental impacts is completed.
But Brown said every first nation partnered on a project is seeing the public bombarded with NDP fabrications and misinformation about private power projects. Plutonic Power Corporation's East Toba River and Montrose Creek projects are located in Klahoose traditional territory. The first nation has signed an impact benefits agreement with Plutonic.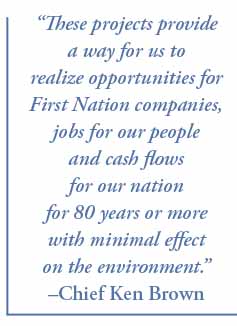 "These projects are in the heart of our traditional territory, the lands that sustained our ancestors and that have to sustain our children," Brown said. "These projects provide a way for us to realize opportunities for first nation companies, jobs for our people and cash flows for our nation for 80 years or more with minimal effect on the environment."
Not only did Klahoose participate in defining the terms of reference for the environmental certificate for the projects, Brown said, it hired its own firm to review the results before it signed off on it. "None of the projects are being built on salmon-bearing streams," he said. "We are however, evaluating construction of a hatchery in the Toba Valley to replace salmon stocks decimated by poor forest practices."
The projects are on leased land, developed without taxpayer dollars and, in the Toba projects, more than $5 million a year goes back to the government in taxes and fees, Brown said. "The paternalistic preaching by the NDP about how we are selling off our rivers is just not true," he said. "What we see is a clear difference from the NDP vision of building mega-dam projects with public money and union labour in control of the spending."
No matter what form of power generation is built, transmission lines are a fact of life, Brown also said. "They need to be planned to keep their number to a minimum, but we are going to need new ones built," he said. "Unless you are planning to stop building houses and give up plasma televisions and computers, we will need to get the power to consumers. More social programs aren't the answer for the current issues with first nations, but I can assure you economic self-sufficiency is."
Nicholas Simons, NDP MLA for Powell River-Sunshine Coast, said it's important to debate the issue. "I think that the current Liberal energy plan is severely flawed, as do many people," he said. "We're asking for a moratorium so we'll know about the long-term impacts and no government is looking into the long-term impacts, from all three — social, economic and environmental — perspectives. What we do have is independent, one-off environmental assessments, but nobody is assessing the cumulative impacts of numerous power generating facilities."
Simons also said he supports first nations receiving benefits from independent power companies. "Fundamentally, that is not the issue. The issue is whether we are doing adequate planning."
Meanwhile, City of Powell River council reversed its decision to call for a moratorium on private power projects.
At the April 8 meeting, councillors rescinded a motion passed at the March 25 meeting calling for the provincial government to stop issuing environmental permits and land tenures for independent power projects.
Council passed a new motion at the April 8 meeting as well, which stopped short of calling for a moratorium. The new motion urges the province to take a leadership role when granting environmental permits and land tenures within BC relating to the development of private power projects by conducting a comprehensive regulatory, environmental and community review process, to examine the cumulative impacts of proposed private power projects.
Councillor Patricia Aldworth voted in opposition to both motions.
The new motion will be submitted to the Union of BC Municipalities for consideration at its 2008 annual general meeting.
©The Powell River Peak 2008