B.C.'s private power competition
sure to have some very sore losers
Patrick Brethour, The Globe and Mail, Sept. 5, 2008
VANCOUVER — The infant industry of private power in British Columbia is a bit like a particularly pricey game of musical chairs.
The tune starts when BC Hydro issues a call for bids, and companies begin to twirl. The pace picks up, BC Hydro awards contracts — and the scramble for a safe seat starts. And, in this game, those left standing have not just a defunct project, but the additional privilege of forfeiting millions of dollars in deposits.
In regulatory hearings over the past two weeks, the provincial utility has disclosed that it is anticipating "capacity attrition" of 30 per cent for its Clean Power Call, in which private companies will provide 5,000 gigawatt-hours a year, equal to about 10 per cent of the province's current generating output. Translation: Projects accounting for close to a third of that new power will go belly up.
That number is news to Donald McInnes, vice-chairman and chief executive officer of Plutonic Power Corp., but he's all too familiar with the Darwinian competition that BC Hydro has set up. Those companies that spend enough time and money on engineering work, on securing contractors and on developing rock-solid economic models will be able to adapt and survive. Those that fail to — well, BC Hydro will no doubt write them a thank you note for those performance bonds.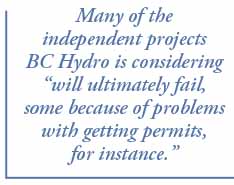 When asked, BC Hydro gamely insists that it expects all projects to go ahead. That's true, in the sense that no one can predict whether a particular project is going to fail. But the utility could not be more clear in its written submissions to the British Columbia Utilities Commission: Many of the projects it will be negotiating will ultimately fail, some because of problems with getting permits, for instance.
But, as the utility notes, there is a broader pressure: The construction market in B.C. is "tight with intense competition for scarce resources." Now, the notion that tradespeople and construction materials are expensive could scarcely come as a surprise to anyone paying attention in B.C. Even with the temperature dropping in the housing market, enough major infrastructure projects are under way to prevent any relief in the short term.
Plutonic Power has encountered those cost pressures. A project to build a 120-megawatt hydroelectric project (part of an earlier call for power bids) cost $420-million in the spring of 2006, but the price tag jumped to $497-million by the fall of 2007, close to a 20-per-cent increase. However, the revenue that Plutonic will get from the project didn't rise at all. Instead, the company added the difference to its debt load, ratcheting up its interest costs — but having nil effect on electricity rates. (Contrast that outcome with the historical result of cost overruns by public utilities: Consumers foot the bill come the next round of regulatory hearings.)
Mr. McInnes accepts all of this as the rules of the game, although he does note that BC Hydro is magnifying the risk by forcing firms to commit to bid amounts months before awarding contracts, leaving a significant lag before private firms are able to actually sign up contractors and thus have a firm command of the actual costs they will face.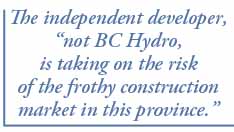 It seems certain Plutonic will grab its seat. But others may not fare as well. Take EarthFirst Canada Inc., which said last month that it is looking for "strategic alternatives" after its wind power project was hit by a cost overrun of about 10 per cent. The scale and size of the extra cost is less than that of Plutonic, but the company has also discovered that its power production is less than previously expected. The firm has not given any indication that it will abandon the wind power project, but analysts have said EarthFirst might be forced to sell off the project's turbines if it can't raise additional financing. Whatever the outcome for EarthFirst, it has this much in common with Plutonic: It, not BC Hydro, is taking on the risk of the frothy construction market in this province.
Everyone, including BC Hydro, knows about the perilous state of the construction market in this province. So why set up a system that artificially ratchets up competition by thrusting a significant number of guaranteed losers into the bidding war? In one sense, it seems a waste.
But it makes brilliant sense from the utility's point of view: The weak projects get crowded out, the strong survive, BC Hydro gets the power it needs — and the added bonus of some walking-around money, in the form of those forfeited deposits.