How run-of-river hydro
can supply B.C. with clean,
renewable electricity
Run-of-river hydro is especially well-suited to B.C.'s geography and it is very different from the large hydroelectric projects usually associated with our province because run-or-river does not store water in a reservoir.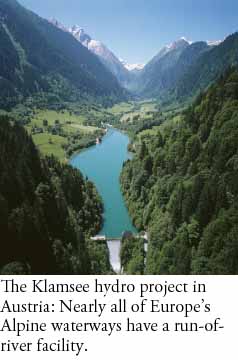 By dispensing with a large reservoir, run-of-river projects minimize environmental impact. Instead, a small proportion of water from a fast-moving stream or river is diverted into a penstock, or pipe, that channels it first to a turbine then back into the river downstream. In most cases the water diversion takes place above a waterfall or rapids that acts as a natural barrier to fish. Among some examples are the East Toba/Montrose Creek project under development north of Powell River and the Upnit project built by the Hupacasath First Nation in the Alberni Valley.
A number of run-of-river projects are either under construction or already generating power for B.C. But due to a lengthy and stringent review process, many more have been turned down or abandoned, often after years of study and significant investment. Some 50 permits, licences, reviews and approvals are required from 14 local, provincial and federal authorities, while extensive consultation also takes place with First Nations and community stakeholders.
Those projects that eventually do come to fruition return about 34 per cent of their revenue in taxes and levies to all three levels of government. And apart from providing environmentally friendly clean electricity, run-of-river projects also provide jobs and other economic spinoffs for local regions and First Nations.
Green energy resources for B.C.