Riding the new wave of ocean energy
"Portugal rules the waves, but B.C. has greater potential"
With surf that gains momentum for hundreds of miles before crashing ashore, the B.C. coast has some of the planet's greatest potential for wave-generated energy. But compared to other countries, we've taken just a few tentative steps towards realizing that potential.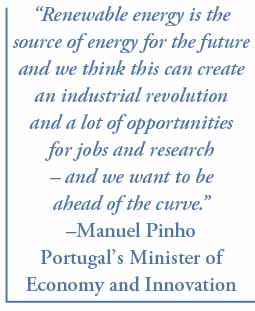 In September 2007, the world's first commercial wave generation project began operation in Portugal, about five kilometres from the northern coastal town of Agucadoura. Its first phase provides enough electricity for about 1,500 average family homes in Portugal, although it would probably serve about half as many based on B.C. averages.
Nevertheless, when the entire project is complete it will provide 10 times the electricity, saving 60,000 tonnes of carbon dioxide annually. That's the equivalent of taking around 11,000 average North American cars off the road.
Portugal's breakthrough brought disappointment to those who wanted Britannia to rule wave energy. Britain had hoped its "Wave Hub," under development 10 miles off the Cornish coast, would take the lead. But it won't begin operation until 2010 at the earliest.
The worldwide potential for wave energy is huge. According to the U.S. Department of Energy, the ocean could supply a fifth of the planet's current electricity demand.
Ironically Portugal's success came from British technology. As a result, spokespeople for industry, government, Friends of the Earth and Greenpeace UK have expressed concerns that Britain is falling behind, to the detriment of British jobs and the environment.
Meanwhile Anthony Kennaway, a spokesman for the Agucadoura project, said, "Portugal could be for wave power what Denmark was for wind."
The Scottish-Portuguese approach to harnessing sea power is called the "sea snake." Seawater courses through a series of tubes hundreds of feet long, causing hydraulic motors to generate electricity.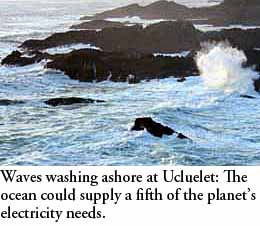 Here in B.C., anyone who's watched the ocean rolling in at Ucluelet will understand why it has excited the interest of wave energy proponents. One plan currently working its way through a series of studies, permits and reviews could initially supply electricity for up to 1,800 homes, more than enough for the entire town. Over time the project could expand to supply roughly 80,000 homes.
This proposal would use clusters of large buoys that rise with the waves, causing an interior pump to compress water and move an underwater turbine that's suspended from each buoy. A generator would transmit electricity to shore through an underwater cable.
A second company proposes something different for Ucluelet. Instead of using underwater generators, it would pump seawater into land-based turbines. The water could then be returned to the ocean or desalinated for drinking.
Another B.C. company has developed technology to generate wave energy for smaller markets not connected to the province's electrical grid.
Although B.C. companies rank among the world leaders in developing wave technology, we lag behind other countries in using it. But that's not for lack of potential. Our province ranks with Australia, southern Africa, the U.S. west coast and the west coast of Scotland as one of the world's best regions for wave-generated energy.
Also worth checking out...
Click here...

to watch a short animation showing how Portugal's wave project works
Click here...

for an illustrated description of different approaches to wave and tidal energy
Click here...

to download an illustrated brochure about wave and tidal energy
Click here...

to read a news story about Ucluelet wave energy proposals
Green energy resources for B.C.