B.C.'s not too soggy for solar
Solar energy doesn't exactly spring to mind while looking out on another wet west coast day here in B.C. and pondering the subject of renewable energy.
But much of Germany has even less sunlight than B.C., especially the province's Interior. And despite that fact, Germany is the world leader in solar-generated electricity.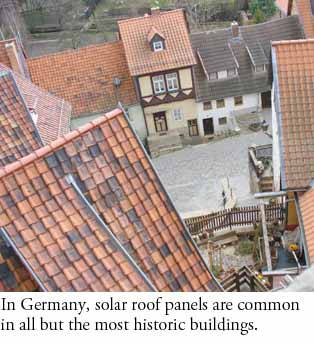 Although sun isn't the country's main source of electricity, German solar does create enough power for well over half a million homes based on average B.C. consumption. In conservation-conscious Germany, the total is much higher.
Even Ontario leaves B.C. behind. Canada's largest solar installation is a cluster of five solar farms now being built in Sault Ste. Marie. When complete they'll generate enough electricity for 6,000 Ontario homes. This, despite the fact that the Soo gets little more sunshine than Vancouver and much less than Fort St. John or Cranbrook.
In April 2007, work began on another of several Ontario solar farms, the First Light Solar Park in Stone Mills, about 30 kilometres west of Kingston. First Light will provide enough electricity for about 2,000 homes. Again, the local sunlight pales by Peace River or Kootenay standards.
Solar installations fall into two categories. Solar thermal, also known as concentrating solar power, uses the sun's heat. A field of mirrors, or heliostats, directs heat to a receiver on top of a central tower, magnifying the temperature up to an exponential 1,500 degrees Celsius. The heat creates steam to turn turbines.
Some solar thermal farms use a parabolic trough instead of a central tower. Curved mirrors focus heat onto pipes containing oil. The oil transfers the heat to steam that then drives turbines.
Solar thermal plants can store heat for several hours in insulated tanks containing molten salt or some other substance. As a result, heat-generated electricity can be produced even after the sun has packed it in for the day.
Solar photovoltaics use the sun's light, not heat. This is done with the solar panels occasionally seen in B.C. but much more widespread elsewhere. The panels contain PV cells that absorb photons from sun rays. The photons energize electrons from atoms of silicon, creating electricity. This type of generation can be used in large solar farms or on individual buildings.
Cloudy Germany has some 400,000 buildings with solar-panel roofs. Given our installation costs of roughly $30,000 to $35,000 per home, B.C. won't catch up any time soon.
The provincial and federal governments do, however, offer incentives for solar water heating. The B.C. government expects to see 2,000 buildings install roof-top water heating panels over the next few years.
But few B.C. buildings create solar electricity. Currently the province has less than 30 homes that provide solar power to the grid.
Nevertheless solar is one of the world's fastest-growing sources of renewable energy. In the U.S. alone, a 10-fold expansion in solar thermal is predicted over the next several years. Photovoltaic installations around the world are expected to grow by 800 per cent over the next decade. As installation prices drop solar will become more accessible. Here in B.C., many more buildings and even a few solar farms can be part of our energy future. As a result, solar can play a minor but useful role in providing us with clean, renewable electricity.


Green energy resources for B.C.