Media release
B.C. Citizens for Green Energy
www.greenenergybc.ca
October 1, 2008
Academic report destroys
the intellectual basis
of the anti-IPP campaign
B.C. Citizens for Green Energy welcomes
this authoritative contribution to public discourse
B.C. Citizens for Green Energy today welcomed an academic report that strongly criticizes two works that are the intellectual basis of the campaign against independently produced clean electricity. The report, written by Dr. Mark Jaccard, finds very serious flaws in John Calvert's Liquid Gold: Energy Privatization in British Columbia and Marvin Shaffer's Lost in Transmission: A Comprehensive Critique of the B.C. Energy Plan. "Dr. Jaccard has made a valuable contribution to public discourse by countering ideological posturing with detail, accuracy and insight," said BCCGE co-spokesperson Gene Vickers. "Everyone who's concerned about electricity supply, electricity prices and the environment should welcome Dr. Jaccard's authoritative report."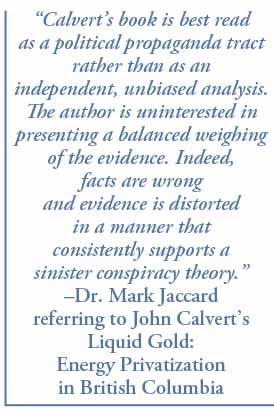 Jaccard's review finds Shaffer's conclusions are not supported by the evidence. As for Liquid Gold, Jaccard writes: "Calvert's book is best read as a political propaganda tract rather than as an independent, unbiased analysis. The author is uninterested in presenting a balanced weighing of the evidence. Indeed, facts are wrong and evidence is distorted in a manner that consistently supports a sinister conspiracy theory."
But the influence of Calvert and Shaffer has been enormous. "Other people keep repeating their allegations," said Vickers. "This nonsense comes up everywhere from confused letters in newspapers to angry speeches delivered to partisan mobs. Now they've been thoroughly discredited — demolished, in fact. But not before they've scared a lot of well-intentioned people."
Jaccard's report is entitled Assessing BC Electricity Policy: Peer Review of Two Controversial 2007 Documents. Jaccard is an energy economist and a winner of the 2007 Nobel Peace Prize. Calvert is a political scientist whose book was published by a non-academic house. Shaffer is an economist whose report was commissioned by COPE 378, a BC Hydro union. All three have served the previous NDP government while Jaccard is also an adviser to B.C.'s Climate Action Secretariat. Jaccard's report was commissioned by the Independent Power Producers Association of B.C., a group unaffiliated with BCCGE. The report was made public earlier today.
The IPPBC had no input into Jaccard's report and agreed in advance to publish it regardless of Jaccard's findings. "Taking a quick look at it, Jaccard's work is impressive not only for his breadth of knowledge but also his objectivity," said Vickers. "If you look at his background you'll see he's very highly accomplished and has no ideological axe to grind. Unfortunately that's not the case with Calvert and Shaffer."
Both Calvert and Shaffer will address a two-day training conference for anti-IPP activists to be held in Vancouver this weekend. "These trainees will be getting their indoctrination from two thoroughly discredited sources and that says a lot about their entire campaign," said Vickers. "I somehow doubt Dr. Jaccard was invited."
Dr. Jaccard's report is available from our Web site:
www.greenenergybc.ca/Assets/Jaccard.pdf
Dr. Jaccard's report is also available from the IPPBC Web site, along with highlights and an IPPBC news release:
http://www.ippbc.com/EN/teasers/jaccard_assesses_bc_electricity_policy_
in_peer_review_of_two_controversial_documents_–_october_1,_2008/
B.C. Citizens for Green Energy is not affiliated with the IPPBC.
---
Other media releases
Myths about green energy spread to North Shore February 28, 2009
Anti-run-of-river road show coming to Campbell River and Courtenay January 29, 2009
Anti-run-of-river rent-a-mob coming to Sechelt January 28, 2009
Anti-run-of-river road show pulls into Powell River January 27, 2009
Anti-IPP campaign challenged to divulge amount and sources of spending November 27, 2008
BC Hydro forecasts underestimate our electricity needs November 24, 2008
Anti-run-of-river road show rolls through the northwest October 16, 2008
Faux environmental group gives Pemberton speech October 16, 2008
Two-day training conference prepares anti-IPP activists for major offensive October 3, 2008
Academic report destroys basis of anti-IPP campaign October 1, 2008
Veteran journalist's anti-IPP involvement raises concerns July 14, 2008
Big money backs the campaign against clean electricity June 19, 2008
Is BC Hydro turning away from clean energy? June 16, 2008
Anti-run-of-river re-runs coming to the Kootenays June 11, 2008
B.C. Citizens for Green Energy congratulates Vancouver Electric Vehicle Association for annual show
June 6, 2008
Run-of-river hydro project short-listed for Canadian Environment Award May 22, 2008
Anti-IPP myths, misinformation and great big whoppers April 25, 2008
The anti-IPP campaign: Creative hyperbole, inflationary hyperbole, relentless hyperbole and lack of attribution April 16, 2008
Opposition to run of river ideological, not environmental March 25, 2008
Newly formed citizens' group supports independently produced clean electricity March 11, 2008