media releases
Media release
B.C. Citizens for Green Energy
www.greenenergybc.ca
November 24, 2008
BC Hydro forecasts vastly
underestimate our electricity needs
The Crown utility has yet to consider
emerging developments in the environment and economy
"The Nov. 25 deadline for BC Hydro's Clean Power Call brings all sorts of good news," said B.C. Citizens for Green Energy co-spokesperson Gene Vickers. "This request for proposals will bring new sources of clean electricity to help wean us off dirty imported energy. We're going to see thousands of new jobs, which are especially important during these difficult times. But BC Hydro's official forecasts vastly understate our future electricity needs. The Crown utility hasn't yet considered electric cars, a huge expansion of public transit, greater industrial opportunities and other emerging developments. Every indication is that we're entering a new era in which clean, renewable electricity will fuel a sustainable lifestyle and help bolster the economy."
BC Hydro's current forecast predicts we'll need up to 45 per cent more electricity over the next 20 years, even if we cut residential consumption by 10 per cent. The proposals that are accepted after tomorrow's RFP deadline will total up to 5,000 gigawatt hours of electricity, enough for about half a million average B.C. homes and roughly nine per cent of our current capacity. But that doesn't consider an attrition rate of about 30 per cent for the proposals that BC Hydro accepts but don't get completed.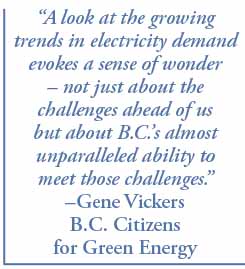 "Then we have additional electricity needs that haven't yet been factored into B.C. Hydro forecasts," said Vickers. "A look at the growing trends in electricity demand evokes a sense of wonder — not just about the challenges ahead of us but about B.C.'s almost unparalleled ability to meet those challenges."
Electric vehicles are just one example of the growing demand for electricity. "BC Hydro hasn't considered them in its forecasts," said Vickers. "And that's understandable. The development is too new to be analysed precisely."
Public transit provides another example. "More electricity will be needed for the Canada Line being built between Vancouver and Richmond, and for any proposals to expand light rail in Metro Vancouver, the Tri Cities, the Fraser Valley, Victoria, the Capital Region or southern Vancouver Island, or for any plans to expand trolley bus fleets," said Vickers.
A proposal to have cruise ships plug into the grid while docked in Vancouver would remove one of the region's worst sources of greenhouse gases. The idea could extend to Victoria, Campbell River, Prince Rupert and other ports.
Electrification of Canada's freight railways could save Canadian Pacific and Canadian National $1.4 billion a year and our planet 5.2 million tonnes of GHGs a year. "Sweden's electrified railway north of the Arctic Circle and B.C.'s electrified Tumbler Ridge line show that the idea is eminently practical," said Vickers.
The Fort Nelson region, which isn't connected to the B.C. grid, relies on electricity from local gas- and diesel-fired generators, with backup from Alberta. Not only are these sources expensive and dirty, they can't keep up with increasing industrial demand.
Electrification can also open up B.C.'s northwest. According to the Mining Association of British Columbia, a new transmission line along Highway 37 north of Terrace could bring $15 billion of investment and over 10,000 jobs.
"Speaking of jobs, recent figures show around 1,100 people are working on clean electricity projects in B.C.," said Vickers. "Several hundred more are working on environmental studies of clean electricity projects and proposals. The Canadian Wind Energy Association says this Clean Power Call could create another 3,000 jobs. In these difficult times especially, that's tremendous news. But when we consider what's been left out of BC Hydro forecasts, we can anticipate even more job creation."
BC Hydro's request for proposals brings other advantages too. "The Crown utility gets to pick and choose the best proposals from a large number of competitors," Vickers said. "Then BC Hydro and consumers are protected from cost over-runs and other risks associated with clean electricity development."
By the Nov. 25 deadline, BC Hydro will likely have received several proposals for run-of-river and wind projects, and possibly wave, tidal or geothermal energy too. "These are all areas in which B.C. has enviable potential," Vickers said. "Once BC Hydro can properly analyze emerging developments, I'm sure we'll have an even greater appreciation of our potential. As we look to the challenges of the future, it's clear that a greater supply of clean, renewable electricity will be essential to our environment and our economy too."
For more information contact Gene Vickers
Co-spokesperson, B.C. Citizens for Green Energy
(604) 230-8030
e-mail us
BACKGROUNDER
B.C. Citizens for Green Energy
www.greenenergybc.ca
November 24, 2008
Cruise ships docked in Vancouver are one of the Lower Mainland's worst sources of greenhouse gases. Last September the Metro Vancouver environment and energy committee and Port Metro Vancouver discussed a proposal to have the ships plug into the grid when docked here. That's the case in some American ports.
Electrification of Canada's freight railways is a huge idea that's entirely realistic, according to Glen Fisher, an expert in railway line capacity and electrification. He outlined a proposal to Transport Canada's EcoFreight Conference last May. An edited version of his proposal appeared in the Montreal Gazette on May 22, 2008:
http://www.canada.com/montrealgazette/story.html?id=550df15e-b05f-403e-b477-56261048f077&p=1
The Fort Nelson region's insufficient electricity supply was discussed in documents filed with the B.C. Utilities Commission. The Vancouver Sun reported this on Sept. 12, 2008:
http://www.canada.com/vancouversun/news/business/story.html?id=f28c6a9b-bfe3-402c-b3b3-4e257417dd74
A proposed transmission line north of Terrace could bring $15 billion in investment and 10,000 jobs, according to a September 2008 report by the Mining Association of B.C.:
http://www.mining.bc.ca/sites/miningassociation/files/FINAL_MABCReport_Electrification_of_
Highway_37_Oct1.pdf
1,100 people have jobs building clean energy projects in B.C. and several hundred more are working on environmental studies related to clean energy projects, according to an October 15, 2008 report from the Independent Power Producers Association of B.C. to the Select Standing Committee on Finance and Government Services:
http://www.leg.bc.ca/cmt/38thparl/session-4/fgs/hansard/N81015p.htm#86:1725
BC Hydro's current Call for Power can create around 3,000 jobs, according to a June 12, 2008 announcement by the Canadian Wind Energy Association:
http://www.newswire.ca/en/releases/archive/June2008/12/c3383.html
B.C. Citizens for Green Energy is an advocacy group representing a cross-section of British Columbians who encourage a legacy of clean, sustainable electricity for future generations.
---
Other media releases
Myths about green energy spread to North Shore February 28, 2009
Anti-run-of-river road show coming to Campbell River and Courtenay January 29, 2009
Anti-run-of-river rent-a-mob coming to Sechelt January 28, 2009
Anti-run-of-river road show pulls into Powell River January 27, 2009
Anti-IPP campaign challenged to divulge amount and sources of spending November 27, 2008
BC Hydro forecasts underestimate our electricity needs November 24, 2008
Anti-run-of-river road show rolls through the northwest October 16, 2008
Faux environmental group gives Pemberton speech October 16, 2008
Two-day training conference prepares anti-IPP activists for major offensive October 3, 2008
Academic report destroys basis of anti-IPP campaign October 1, 2008
Veteran journalist's anti-IPP involvement raises concerns July 14, 2008
Big money backs the campaign against clean electricity June 19, 2008
Is BC Hydro turning away from clean energy? June 16, 2008
Anti-run-of-river re-runs coming to the Kootenays June 11, 2008
B.C. Citizens for Green Energy congratulates Vancouver Electric Vehicle Association for annual show
June 6, 2008
Run-of-river hydro project short-listed for Canadian Environment Award May 22, 2008
Anti-IPP myths, misinformation and great big whoppers April 25, 2008
The anti-IPP campaign: Creative hyperbole, inflationary hyperbole, relentless hyperbole and lack of attribution April 16, 2008
Opposition to run of river ideological, not environmental March 25, 2008
Newly formed citizens' group supports independently produced clean electricity March 11, 2008